Autistic Coders Get Jobs as Microsoft, SAP Woo Software Sleuths  
By Olga Kharif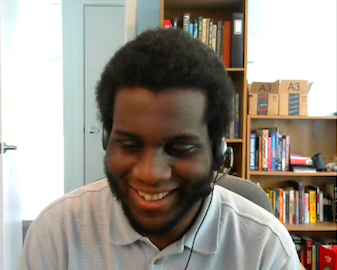 David McNabb. Source: Ultra Testing via Bloomberg
David McNabb graduated from college with a computer science degree in 2001 yet never found a job in his field or any field, failing at interview after interview.
Those meetings with prospective employers "were definitely a large stumbling block," said McNabb, 36, who was diagnosed with autism last year. "I wasn't on the same page as far as what they were looking for in a person, or maybe the type of person they'd wanted to work with."
He finally embarked on his professional life about five months ago, when he began working from home for Ultra Testing, a 2 1/2-year-old startup that tests software for companies. Eighty percent of Ultra's workforce has an autism spectrum disorder.
Many people with autism, which impedes social and communication skills, are unemployed, and those who work often have low-paying jobs. Interviews are hard because many have trouble making eye contact and are sensitive to noise or light. Yet, like McNabb, some are high-functioning and exceptional at repetitive tasks, recognizing data patterns and finding bugs in software — a good fit for the technology industry. Microsoft Corp., SAP SE, Freddie Mac and HP Australia have initiated programs to hire people on the autism spectrum.
"It's definitely been a very good break for me, just getting traction, being able to show that I can be working and contribute to a team," said McNabb, who lives with his father and stepmother in Flossmoor, Illinois. He spent all those years helping family members with computer issues, volunteering and tinkering at home with operating systems and software to see what makes them tick.
'Really Smart'
Last year, a team of testers from New York-based Ultra worked to find software bugs for the company behind the Webby Awards, which honors Internet excellence.
"They found five-to-10 times more things than we found ourselves. We were astonished," said Steve Marchese, executive producer at Webby Media Group. "This is a really smart way to utilize the gifts that people on the spectrum have."
Businesses also have an incentive to employ people with autism because it helps them comply with Labor Department rules that went into effect last year. The regulation calls on companies that get federal contracts to increase hiring of people with disabilities so they make up 7 percent of staffing.
Integration can be challenging. Managing autistic adults often requires enhancing training, adapting work stations, adopting new communication skills and accepting non-traditional work methods. Employees need to adjust to the physical workplace with its noises and layout and social interactions with colleagues. Both sides need to be aware of comparable salaries to avoid exploitation.
3.5 Million Americans
Autism affects about 1 in 68 children in the U.S., according to the Centers for Disease Control and Prevention. More than 3.5 million Americans are estimated to have an autism spectrum disorder, which refers to the wide range of symptoms, skills, and impairment levels, according to a 2014 study from researchers at the University of Pennsylvania and the London School of Economics and Political Science. Many with a high-functioning form, known as Asperger's syndrome, have average or above-average language skills.
Not all autistic adults can or want to work. Many live in group homes or with their families and need help completing everyday tasks.
Microsoft said last month it began a pilot program in Redmond, Washington, teaming with Specialisterne USA, a nonprofit group that helps autistic people find jobs.
"They have a real passion for detail," Mark Grein, executive director at Specialisterne, said in an interview from Stamford, Connecticut. "They tend to be very good at following a process, improving a process, optimizing a process."
SAP SE, the German software maker, has hired 53 workers worldwide since 2012 through its Autism at Work program and is aiming for 1 percent of its staff, currently at 74,500, by 2020.
"We do have clear anecdotal evidence of business benefits from our pilot program," including gains in productivity, quality, customer relations, people management and innovation, said Jose Velasco, who heads SAP's autism program in the U.S.
SAP, a Specialisterne partner, has also consulted to 50 companies looking to start similar programs, Velasco said. SAP often relies on local organizations that help people with disabilities to suggest candidates, who then go through a five-week training period.
Diversity Lesson
The employee's team gets about a half day of autism-awareness training and the employee works with a mentor, many of whom have a family member with autism, Velasco said. Workers with noise sensitivities may wear noise-reduction headphones or work in a quieter area. Some communicate with coworkers mostly by e-mail if they are uncomfortable in face-to-face situations.
Towers Watson & Co., a human resources consulting firm based in New York, also worked with Specialisterne to hire 18 autistic adults for about six months last year to check compensation data for clients. The company is now looking to expand the program in the Americas, Asia-Pacific and EMEA regions, according to a company statement.
Managers "had to attune themselves to how to effectively engage and support a different group of people," Max Caldwell, a managing director at Towers Watson, said in an interview. "It was a lesson in diversity."
Companies need to be creative when managing employees with non-traditional communication skills. Ultra's employees live in 12 states and work mostly from home. Weekly, they fill out an anonymous five-question survey on their happiness and wellbeing. Ultra adjusts its processes at least once a quarter to maximize job satisfaction.
Culture of Appreciation
"We are trying to create a culture where we appreciate each other," said Ultra co-founder Rajesh Anandan. The company is adding four to five employees every six to eight weeks to keep up with demand for services and the vast majority are autistic, he said. "If we are really successful, we'll employ hundreds of folks, maybe a few thousand folks."
People who find work through Specialisterne get jobs within standard salary ranges for their descriptions, Grein said.
"Our mantra is, we want sustained employment at market wages," Grein said. "If current college graduates make $50,000-$60,000, our people should make the same."
Wage inequity does exist, though it's primarily seen at companies that only hire people with autism, according to Ari Ne'eman, president of Autistic Self Advocacy Network, which represents people with autism and their families.
"We do see and are concerned by reports that autistic people are employed at below market wages in segregated workplaces," Ne'eman said. Some of the companies "are paying significantly below comparable wages for non-autistic workers in similar positions" at other companies, he said.
Mortgage company Freddie Mac, which has an internship program for people with autism, is finding that they can fill a variety of positions, including in data analysis and customer service. All the full-time employees hired through that program have worked out, said spokeswoman Ruth Fisher.
At SAP, just two people who started in its program are no longer with the software maker.
"The retention rates for our Autism at Work program are consistent with and no different than other groups of employees," SAP spokesman Scott Behles said in an e-mail.
'I Have a Career'
A year ago, SAP hired Charles Hollenden to solve customer software issues. The 32-year-old, who has Asperger's, spent years in a rash of less-than-satisfying retail and customer-service jobs. At night, he'd work at home on his passion: the Minecraft game. He said his disability, which affects him mostly on a social level, held him back in past jobs.
"I have a career now," said Hollenden, who lives with his parents in Ridley Township, Pennsylvania. "I am doing a job that feels like what I was kind of doing for my hobby."
Autism is the fastest-growing developmental disability in the U.S., according to the Autism Society, an advocacy group.
With statistics like this, companies had "better be prepared to work with them," said Robert Lux, Freddie Mac's chief information officer who has an autistic 14-year-old daughter. "You got to open your mind, let them in. By the time my daughter enters the workforce, I hope it's not going to be just a handful of companies."
Source: Bloomberg Technology